Let Us Help You Live Your Best Life
Thrive in this life
Compassionate and quality legal services in Liberty, MO
At Lifescape Law & Development, we provide compassionate and quality Estate Planning Services to our aging adults, individuals with disabilities, and families at every stage of life. Compare Your Options.
Now with Two Locations to Serve You.
What We Do Best
Our Services
Get Started Today
Let's Begin Your Masterpiece
The sooner you come see us about Estate Planning Services, the greater the range of options available to you. Wait, and your options disappear. Call (816) 291-4143 now or submit an online inquiry.
Call us today
Send Message
Comprehensive plans for a picture-perfect future
Our Team is Here for You
Providing you with peace of mind
We prioritize you–our valued clients. Our goal is to help you create a brighter future by developing effective plans for you and your life. Trust us to listen carefully to your wishes and take the time to make sure you fully understand your options. It is our privilege to serve each person who walks through our doors. We do this by listening to each family's unique story, offering information and options, and providing a comprehensive and tailored plan.
We aim to help you protect your assets, health, independence, dignity, and family through every season and flourish as you grow. Ultimately, we strive to provide you with the peace of mind that comes with having a comprehensive, well-designed plan for whatever the future may hold. You can rely on us to help address your concerns and realize your most cherished dreams, both for your loved ones and business. We are here to help!
OUR TEAM IS HERE FOR YOU THROUGH THE COVID CRISIS
We Provide Support
Our office is open & employing safety measures to keep everyone safe!
We Offer Answers
Our team will help you navigate the complexities of your financial and estate plans through this season. Ask us how the CARES Act affects you!
We Create Solutions
Flexibility is king during the quarantine. Video Conferencing, phone consultations and drive-thru signings available!
Get in Touch to Get Started
Let's Design Your Lifescape
At Lifescape Law & Development, providing Estate Planning Services to ensure your family's security.. Experience the peace of mind that comes with having a comprehensive plan designed for whatever the future may hold.
Prompt Service
Give us a call and we'll return it – shoot us a question and we'll give you our full attention.
Kindness
You are a masterpiece created to be loved and served – we approach each person with this in mind.
Real Solutions
Your future is imminent – our goal is to assist you in making lasting decisions to empower you and minimize fears.
Updates and Events
Get the latest updates from Lifescape! We also host regular events to prepare individuals of all ages for their and their loved one's futures. Pencil us in for the next one!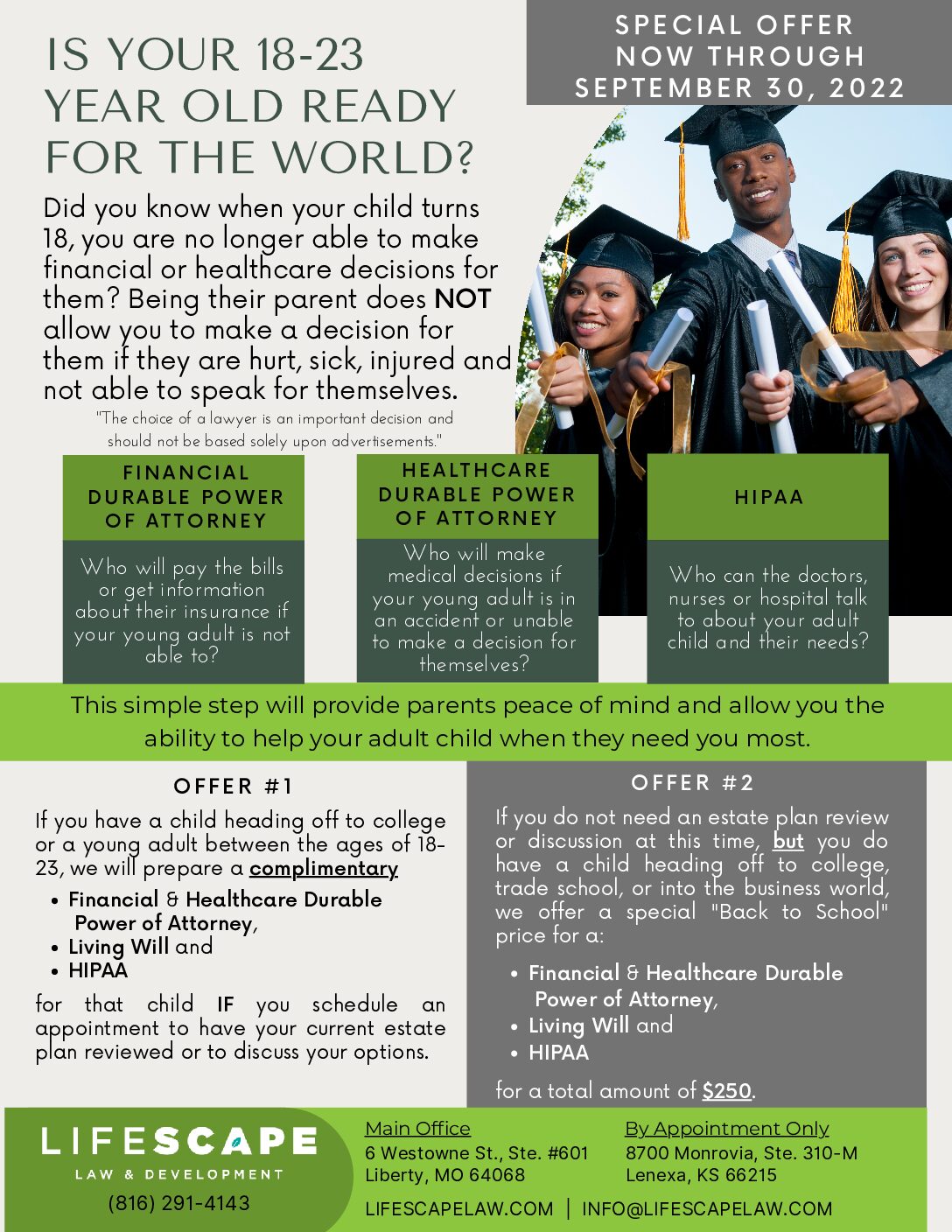 Did you know when your child turns 18, you are no longer able to make...
read more